The origins of Ellistown GAA can be traced back to January 29, 1888, when Mountrice Blounts GAA club was established. The Blounts took their name from a local member of the Liberal Party, Wilfred Scawen Blount, who was a supporter of Home Rule, and RIC records from 1890 show that the club had 50 members, with officers of the club listed as Terence Byrne, JJ Malone, William Curry and John Corry. By the time they were four years in existence, Mountrice Blounts had won two Kildare County Championships (1889 and 1891), reached a Leinster club final, and started a football tradition in the area that continues to this day.
The existence of the club would prove to be short lived, however, and the club disbanded in 1892. They were succeeded by a number of clubs that would represent the area with distinction, including Knavinstown, Springfield, Umerus and finally, in 1918, Ellistown.
Ellistown's first major success as a club was victory in the 1922 Junior Championship. The 1930's and 1940's would see Ellistown rise to the very top of Kildare football. They won the Intermediate Championship in 1935 and followed that up four years later in 1939 by becoming Kildare Senior Champions, defeating St. Patricks (an amalgamation of Rathangan and Round Towers) in the final. Ellistown also won the Kildare Senior Championship in 1944, defeating Carbury in the final on a scoreline of 1 – 04 to 0 – 04.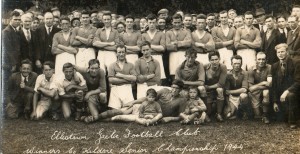 In 1951 Ellistown became Intermediate Champions, defeating Raheens in the final. Their next championship success would come in 1963 when they defeated Ballymore in a replay to take the Junior Championship. They followed up this success a few weeks later by winning the Jack Higgins Cup, defeating Clogherinkoe. In the following year they would return to the Senior ranks by winning the 1964 Intermediate Championship. Local poet Paddy McCormack composed a poem, 'Ellistown', in tribute to the team of '63.
In 1972 Ellistown reached the Kildare Senior Championship final, where they were defeated by a strong Carbury side.
The club's next championship success came in 1999 when Ellistown won the Junior Championship for the first time since 1963, defeating Ardclough on a scoreline of 4 – 3 to 0 – 9. They completed a championship double the following year, defeating Ballymore to take the 2000 Intermediate Championship and return to Senior ranks. Ellistown would contest the Senior Championship for the next 10 years, reaching the semi-final stage on two occasions, before relegation back to Intermediate in 2010.